The latest event of the #Debate project has the theme "Active Citizenship and its Role in Sustainable Development." From a wide range of issues in the field of sustainable development, environmental protection is more accessible to young people and more present in their concerns. We also take this opportunity to bring to the attention of the local community a less known thing, namely that at the Technological Highschool Azur Timisoara, the future specialists in the field of environmental protection are trained. The event is of the type of debate and will be broadcast live on the internet.
Event Title: iDebate: The Young People and the Planet: What Can I Do to Save It?
Date: 30 January 2019, ora 12:00
Place: Azur Technology High School Timișoara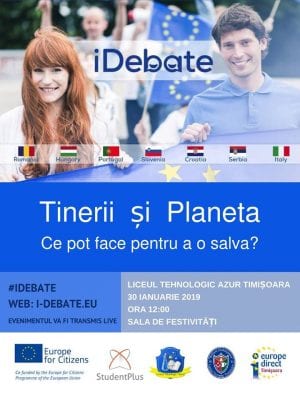 Program
1. Introduction to environmental policies
2. Inter-lycee debate
a) Climate change: between myth and reality
b) Can young people save the planet by promoting a reduction in consumption?
3. Dialogue between young people and specialists
Special guest: Univ prof. dr ing. Petre Negrea – Politechnica University Timisoara – Faculty of Industrial Chemistry and Environment Engineering
Event partners:
Student Plus – Europe Direct Timisoara
Liceul Tehnologic Azur Timisoara
Liceul Teoretic W. Shakespeare
A different kind of report
Between August 2017 and January 2019, the iDebate project hosted 35 local and international events, with over 2,400 young participants, and tens of thousands of Internet users had the opportunity to track them in real time on facebook pages, on youtube or on the dedicated page of the project. The events covered topics such as European solidarity, the functioning of European institutions and civic participation, the Euro-parliamentary elections in 2019, fake news and critical thinking, the digital citizen and, finally, sustainable development.
But if the numbers talk about the efficiency of European project management and our ability to adapt to the intercultural working environment, the ease of working with partners from all European countries due to the political context, the technological advance and the improvement of the mobility at the level of the Union, we would like to remove which we believe, the project managers, is the bigger gain of this project. It refers to the restoration of trust between citizens across Europe, the reopening of intimate channels of communication between people who respect each other, who help and who, feeling more and more secure at home and in Europe, engage in fulfilling a dream.
One of the atuas that our project has started from, and which attracted the approval of the evaluators, was that it brought together young people from countries that are in very different stages of European history and democracy. So we could see the similarities, but also the differences between our preoccupations, the level of civic dialogue and civic involvement. Here are just a few of the participants' impressions:
"These are very personal discoveries that we made during our project, which makes this experience more authentic to all of us … for example, the fact that I and the Croatian girls had very similar experiences during the war and the revolution or that Alessandra, noting the magnitude of the corruption phenomenon in Italy, has discovered that Romania has a huge problem with corruption. She also spoke admiringly about the young Romanians and about the fact that they are interested in politics and very willing to volunteer, as opposed to a large part of the Italian tuition, which makes volunteering for obtaining school credits … all these complex experiences, have made us feel part of a big family and I want to thank everyone. Management Team and Local Partners: I also want to mention the hard work you have all done in this project. If you are busy and full of lust, like me, which I suppose you are, we all deserve applause and thanks for doing this project, and because we have given the best of us to bring a plus to the lives of our fellow citizens." Maria Ciorba, coordinator of iDebate – Romania
"It was an intense meeting, I did not expect young people, even if many of them are not yet 18, to be so interested in what is happening at European level at national level and to want to get involved in the process decision-makers, to exercise primarily citizenship, to get involved in society and what is happening around them. I presented the young people with the "I vote this time" campaign, an institutional campaign whereby the European Parliament wants them to exercise their right to vote in support of European democracy." Elena Stănescu, representing Romania's Liaison Office with the European Parliament
"We will certainly go to vote; yes, I will go, it is our duty, we are the young, we will lead society towards a better future. Because I want everything next year to be much better than it is today, to change things. Let's not be discriminated! Stop being corrupted, because if we vote for someone better, we will have a better future. I want a better future for me and my country, we need to take the initiative and change the situation because the population has become aging due to young people leaving and if we had the chance to vote as soon as that would not happen." A group of young participants at the international event in Timişoara, November 23, 2018
"The implementation of the iDebate project in Portugal was an outstanding experience and also an opportunity to bring together students from high schools and universities to debate the future of European citizenship, European institutions, democratic and electoral processes. The impact on public opinion faced some challenges and the activity of streaming was not always possible, mostly because of wifi constrains at schools. " dr. Patricia Oliveira, national coordinator – Portugal, has been desiring to deepen in future projects.
Project partners:
Student Plus –  Europe Direct Timisoara, Romania – lead partner
Faculdade de Ciencias Sociais e Humanas da Universidade Nova, Lisboa – Portugal
Pest Megye Onkormanyzata | Europe Direct Pest – Budapest, Hungary
Zavod PIP – Pravni In Informacijski Center Maribor, Slovenia
Udruga Za Promicanje Informatike, Kulture I Suzivota (IKS) – Petrinja, Croatia
Evropska Generacija – Zrenjanin, Serbia
Associazione Eurokom -iEurope Direct Gerace, Italy
More information:
Event recordings are available in the video archive https://i-debate.eu/live/video-archive/
Furthermore, citizens of all ages are invited to participate in the online forum